2022-2023 Applications are now open! 
Our Anthony Fantroy Scholarship program has been developed to motivate and support college-aged students who may not otherwise have the resources to pursue post-secondary education.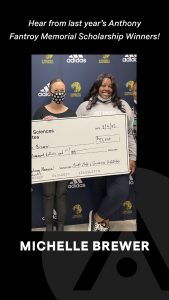 The scholarship is dedicated specifically to serving the needs of students from economically disadvantaged families and backgrounds. 
"A full ride to Aveda Arts gives me the right set of circumstances to take my career into my own hands, shared 2022 scholarship winner, Shara Ali. "I have the autonomy to create the future I'd like to see for myself." 
Named after our Aveda Arts Dallas Educator – Anthony Fantroy was a huge part of our culture and the student experience for more than 9 years before he passed away in September 2019. This memorial scholarship program continues Anthony's legacy forward to future generations of students.  
2022 scholarship winner, Elsa Ocegueda, said she wants to set an example that there are many true opportunities out there and not to lose motivation. "It means a lot to me and my family knowing that I will accomplish a lot at a young age."   
The opportunity allows students to turn their dreams into reality and pursue a successful beauty career without financial stress. "When I style and braid my hair or the hair of my clients, it makes me feel motivated, confident, and good about myself," said Michelle Brewer, 2022 scholarship winner. 
To apply for the scholarship, you must meet the following qualifications: 
Possess the 3 qualities that Anthony embodied: compassion, thoughtfulness, contribution  
Meet admittance requirements 
Have a 0 Expected Family Contribution 
Reside in a Redlined area 
Maintain Satisfactory Academic and Attendance Progress 
Complete the state hour requirement of the program to receive a full scholarship 
Your application should also include a video of your beauty/wellness/routine or demonstrating your own personal look. A letter of recommendation is also required.  
Each applicant should fill out the form, and submit the video and letter of recommendation by December 17, 2022. 
To read about the full requirements and apply, click here: 
https://avedaarts.edu/lps/afms/  
Check out how we celebrated our 2022 winners! 
 https://www.instagram.com/tv/CZxC6V8Dcza/?utm_source=ig_web_copy_link