Aveda, known for its commitment to sustainability and excellence in the world of beauty, recently hosted its much-anticipated Aveda Congress event in Minneapolis. This four-day exhibition brought together top global artists, industry leaders, and passionate hair professionals from around the world to celebrate artistry, learn from the best, and explore innovative products and techniques. The transformative experience left attendees inspired and equipped to make a positive impact as artists, entrepreneurs, and stewards of the planet. 
This year, Aveda Arts & Sciences Institutes was well-represented for the first time at Congress on the Global Stage with our VP of Education and Creative Direction, Traci Sakosits leading a segment on haircutting while speaking to the idea of "Elevating the Industry One Student at a Time."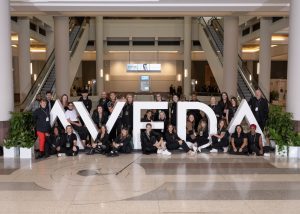 Immersive Artistry and Expert-Led Showcased:  
Aveda Congress 2023 was all about pushing the boundaries of creativity and skill. Our educator coaches and team had the privilege of immersing themselves in a world of artistry, learning from industry leaders. The speakers and demonstrations covered a wide range of topics, from the latest hair trends to sustainable beauty practices. Professionals had the opportunity to enhance their skills and stay at the forefront of the ever-evolving beauty industry.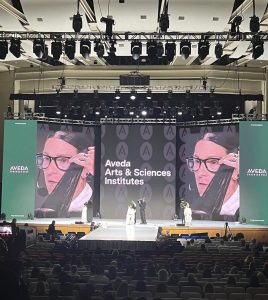 Connecting with Fellow Artists:  
One of the most valuable aspects of Aveda Congress was the chance to connect with like-minded individuals. The Aveda Arts team formed bonds with fellow artists, sharing ideas, experiences, and a deep passion for their craft. These connections often extend far beyond the event, fostering a sense of community and collaboration within the Aveda family.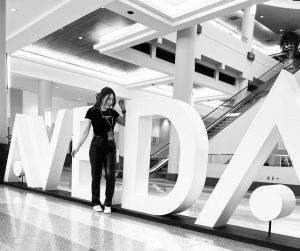 Innovation and Sustainability:  
The event's exhibition area showcased the latest innovations and developments in Aveda products. It featured a glimpse into the brand's ongoing commitment to sustainability and environmental responsibility. Our team had the opportunity to explore the Aveda product lines and research & development and witness the dedication of Aveda to creating beauty solutions that are not only effective but also eco-friendly.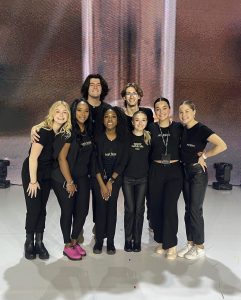 Mentors Mentoring:  
One of the highlights of Aveda Congress was the presence of Traci Sakosits, VP of Education and Creative Direction at Aveda Arts & Sciences Institutes on the Global Stage. Traci graced the main stage alongside Tukia Allen, educator coach from Atlanta, and Jun Jie Du, Educator coach from Arlington, with a cutting-edge demonstration and fashion show, highlighting the importance of "mentors mentoring." Traci emphasized the significance of passing on knowledge, skills, and a love for beauty to the next generation of hair artists. It was an inspiring reminder of the mentorship and camaraderie that define Aveda's approach to education and growth. 
Team Building and Inspiration:  
The weekend at Aveda Congress was not just about professional development; it was also about team building. Educator Coaches who attended the event left with a renewed sense of inspiration and motivation. They were eager to bring back the knowledge, techniques, and creative energy they gained from the event to their respective schools. Aveda Congress served as a catalyst for collaboration and innovation within the Aveda community.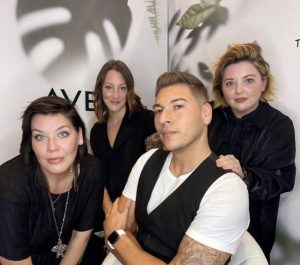 If you have a passion for beauty and education, Aveda Arts & Sciences Institutes offers a unique opportunity to benefit from experiences like Aveda Congress! 
The brand's commitment to education and mentorship is evident in its programs and events. By becoming a part of the Aveda family, you can unlock a world of possibilities for personal and professional growth. Whether you're looking to enhance your teaching skills, stay updated on industry trends, or connect with a passionate community of beauty professionals, Aveda Arts & Sciences Institutes can provide the support and resources you need. 
Apply today at: avedaarts.edu/careers