At Aveda Arts, we take immense pride in nurturing talented individuals and witnessing their remarkable success stories!
Meet Aveda Arts Charlotte Alum: Monique Dukes.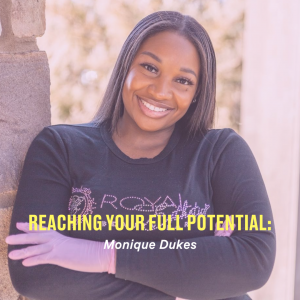 Monique's journey began in July 2019, when she embarked on her dream of becoming an esthetician. With determination and her passion for beauty, she dedicated herself to investing in her education, a decision that would shape her future in the most extraordinary ways. 
"Being a student at Aveda Institute was a great experience," Dukes shared. "The curriculum was achievable but at the same time it challenged you as well."  
During her education, Monique received not only a solid foundation in esthetics but also practical skills that would prepare her to enter the industry. "The instructors held you to a certain standard that is more relatable to the real world," she shared. 
With her head held high as a proud alum, Monique set out to make her mark in the beauty world. In 2020, she bravely established her very own business, the Royal Esthetics Beauty Bar. She provides a variety of services such as facials, waxing, and eyelash extensions.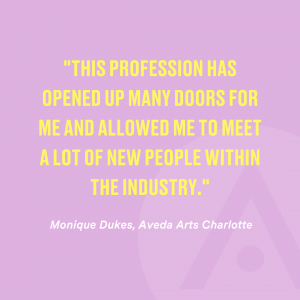 The beauty industry not only enables her to express her creativity but also fosters connections, making her journey all the more fulfilling. "This profession has opened up many doors for me and allowed me to meet a lot of new people within the industry," she shared. 
Today, Monique's Royal Esthetics Beauty Bar thrives as a testament to her talent, creativity, and determination. "I am a proud alumni of Aveda Arts Institute and I would recommend it to anyone that would like to become an Esthetician," Dukes shared with enthusiasm. 
We hope you're feeling inspired by Monique's hard work and dedication to her passion! Are you ready to shine in the beauty industry? We're enrolling now for our Fall programs. Connect with our Admissions team at 877-892-8332 or send us a DM @avedaarts to set up a tour!