"We can always choose comfort, but Rebecka chose courage."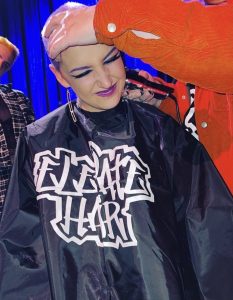 In 2021, Aveda Arts New Orleans student, Rebecka Bollinger was diagnosed with stage 3 Hodgkins Lymphoma. Following her diagnosis, Rebecka started chemo treatments and began fighting her battle with cancer.  
Because of the overwhelming support of her friends and family, she has kept a smile on her face throughout her journey, "I strongly believe that the hardest battles are given to the strongest people and that positivity and optimism can help you overcome anything." 
As she continues her fight, she considers beauty school as her escape. 
"I currently commute every Wednesday-Saturday from Thibodaux to follow my dreams to be successful," said Bollinger. "I've been the happiest I've ever been in my life."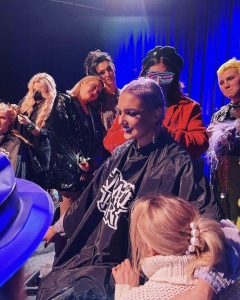 When Brandie Devillier, Aveda Arts Educator, was asked to shave Rebecka's head at the Elevate Hair show – she knew it would be powerful. "I knew this was a hard decision for her and would be such an amazing moment so we both jumped all in," said Devillier.  
https://www.instagram.com/p/CY06khxhQic/
The Elevate Hair show is a space for creatives to showcase their work and inspire their community. It was the perfect opportunity for Rebecka to take her power back and create something beautiful.  
The performance started with Rebecka's hair dyed purple – the ribbon color of Hodgkins Lymphoma. On the back of her head read FV¢K CANCER.  
As her family and friends cheered her on, Brandi shaved Rebecka's head, "Brandi gave me the opportunity to show that even through the hardest and darkest of times, you can make it beautiful and inspiring." 
It was an inspiring moment for all who were in attendance. It was a display of courage and resilience.  
"I have been in awe of her courage and commitment to my vision. The support from her family, friends, and her classmates had me in tears," said Devillier.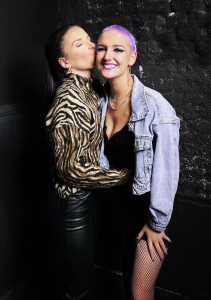 As Rebecka's journey continues, she knows she will have endless support from her friends and Aveda family.  
https://www.instagram.com/p/CY45B1aOR4T/
"I hope I've inspired anyone else that's going through hard times like I'm going through and can look at it and believe that everything will be okay." 
#BattleWithRebecka