A day of pampering can do wonders for our mental health, and that's exactly what the Hudson Square Business Improvement District, Aveda Institute New York, and Hudson Square's Chelsea Career and Technical Education High School provided to 35 high school students on Tuesday, April 4th, during their second annual Day of Pampering event.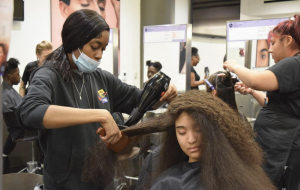 The event aimed to recognize and appreciate the hard work and dedication of "unsung heroes," students who go above and beyond in their efforts to contribute to the school. Scott Fowler, organizer and teacher at Chelsea Career and Technical Education High School, said, "There are certain kids that go unnoticed. They do a lot for the school, but they're quiet. These are kids that are doing stuff for the teachers, they're helping out with fundraising. We wanted to honor those kids and say thank you for being a great student. Thank you for all that you do for the school."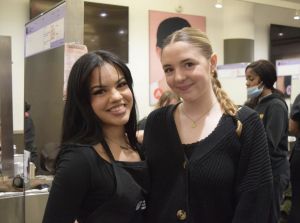 The event provided free makeovers, including shampoo, haircut, and styling, or a 30-minute facial, brow design, or make-up application done by Aveda Institute cosmetology students working towards their state cosmetology license. Photography students were also present to shoot throughout the event, ending with a photoshoot where the students had the chance to show off their new looks. 
The Day of Pampering event created a unique and beneficial opportunity within respective professions for all participants. It provided hands-on experience for our cosmetology students, time for networking and developing a portfolio among photography students, and one-on-one experience for high school students interested in pursuing a career in cosmetology.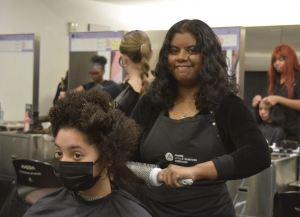 Samara Karasyk, CEO of Hudson Square BID, said, "After the first year of organizing this partnership, everyone loved it so much that Aveda came back to us and asked to do it again. I think both the students at the Aveda Institute and Chelsea CTE High School got a lot out of it. We love to bring together community members in Hudson Square. We bring them together to build our community and connect people to make them really feel like a part of something."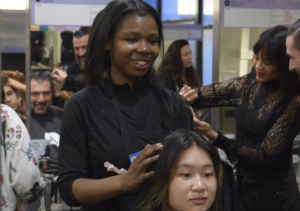 Pamela Trammel, Retail Manager of Aveda Institute New York, said, "Aveda loves the opportunity to give back. Our mission is to care for the world we live in. What better way than to give back to the shining stars at our community Chelsea Technical HS. We are turning our passion to purpose."