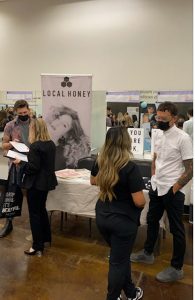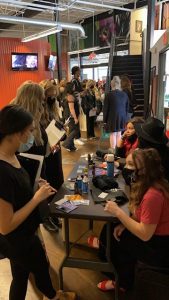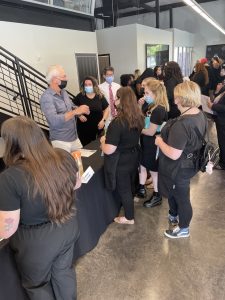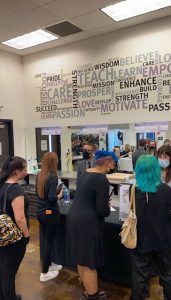 At Aveda Arts and Sciences Institute, our curriculum is designed to teach professional business-building skills, career development, and employability skills. It is our goal to provide real-world training for students to prepare to launch themselves into the industry. 
With a network of many high-end salons and spas nationwide and a close relationship with Aveda salons and spas, Aveda Arts & Sciences Institute assists students to explore their options after graduating by hosting career fairs while they are still in school. Career Fairs provide a great way for local businesses to connect with our Aveda Arts students and introduce them to possibilities after earning their license. Each of our 18 locations hosts their own in-person events twice a year where students participate in workshops and connect with professionals in the industry. Career fairs are also a great way for salons and spas to meet rising talent early on in their professional journey and start building relationships with potential future employees. 
Alumni are always invited to attend our career fairs and are encouraged to share their industry experiences with our current students. 
"Being able to have the opportunity to once again go to Aveda Institute in Houston has been amazing, seeing the next generation of hairstylists in our industry and helping them find their own salon home at Josephine's day spa and salon or simply being able to tell them my experience from the institute to a salon to give them insight and advice is amazing," shared Aveda Arts Alum, Isabella Sarlay.  
We want our students to succeed long after they leave the classroom which is why creating these connections are so important. "I found my salon home, and a career where I love what I do each and every day," said Sarlay. 
Along with business skills, our courses include an instructor-led classroom and clinical training as well as practical hands-on application. 
"My time at Aveda Institute was life-changing, I started cosmetology school not knowing where it'd take me, and I fell in love with Aveda's culture and cosmetology. Towards the end of school, I just had a strong feeling that becoming a stylist was what I was meant to be doing with my life," said Sarlay. 
It is wonderful to look around at these Career Fairs and see many of our Aveda Arts alumni now representing their new businesses and employers. Their time at Aveda Arts & Sciences Institutes has truly come full circle from student to professional. 
Does your salon or spa want to connect with our students at our next career fair? Send us an email at marketing@avedaarts.edu 
Interested in Cosmetology School? Schedule a tour now!
Check out more on Career Fairs here!