Our goal at Aveda Arts & Sciences Institute is to foster a beauty industry that is inclusive and embraces diversity for everyone.  
While textured hair training has been established in our students ' curriculum since 2020, not all Cosmetology schools have followed suit.  
"As we developed our education to be more focused on texture and to be at a higher level regarding texture, it occurred to me in my capacity as Chairman of the Board of Cosmetology of Louisiana: How do we ensure that all students, not just Aveda Arts students, are graduating with the ability to work on all hair types?" shared Edwin Neill, President of Neill Corporation and the Louisiana Board of Cosmetology Edwin Neill (behindthechair)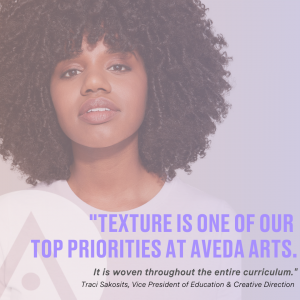 In November 2021, Louisiana's Board of Cosmetology passed a resolution to require all licensing exams to include a section on cutting textured hair – becoming the first state in the nation to revise the education standards in the beauty industry.   
From there, Aveda Arts & Sciences Institutes has worked with the Professional Beauty Association (PBA) to become part of the Texture Education Coalition along with L'Oréal Professionnel, DevaCurl, and more beauty brands. Together, they influence cosmetology state boards and legislation across the nation to equip stylists with the education necessary to service all hair. 
For our Cosmetology students, texture education starts on day one. 
"Talking about texture education and putting systems in place are great, but then we actually have to step up and do it," says Traci Sakosits, Vice President of Education & Creative Direction at Aveda Arts & Sciences Institutes. "Texture is one of our top priorities at Aveda Arts. It is woven throughout the entire curriculum, which I think is going to make the biggest difference." 
We are dedicated to equipping every graduate with the expertise and resources necessary to cater to the unique needs of all hair types. Our priority is to ensure that each student is fully prepared to provide exceptional service to clients with diverse hair textures. 
For that to be possible, texture is present in the theory, application, and diverse clientele of every specialty domain, including Hair cutting, Hair color, Natural dressing, Styling 
Each domain dives into deeper areas of textured hair care and proper service. For example, "hairdressing" would entail Protective styles such as locs, braids, and twists, Sew-ins, Wig theory, Hair extension theory, Braid extension theory, Hands-on-hair workshops.
"I've been with Aveda Arts now for six years, and the difference that I have seen in advancement with texture is amazing," says Tukia Allen, Atlanta-based Educator Coach at Aveda Arts & Sciences Institutes. "The future of education for textured hair starts with letting our students know that they have options, and that hasn't always been the case…Now, it's a different world for that and the tables are opening up for them." 
LaKahyia Moll, Educator Coach at Aveda Arts & Sciences Institutes in Lafayette, agrees. "Texture education allows us to freely create, which is ultimately what this industry is about," LaKahyia says. "Once the learners are ready to be working with real people and real-life situations, they are confident. We've built that confidence so it doesn't matter who sits in their chair—texture or not. They only see the hair." 
Source: https://behindthechair.com/articles/aveda-takes-crucial-steps-for-advancing-texture-education/