The spotlight is on Isdis Marquez, an individual who discovered her passion for makeup, hair, and beauty-related things at a young age. At 15, after her quinceañera, she was allowed to wear makeup, which sparked her excitement to start practicing on friends and family.
"I remember being super excited for my first makeup purchase," she says. "I started practicing on friends and family, and as time went by, I became more and more passionate about it. I was drawn to the idea of enhancing someone's beauty, for me, it was like creating art."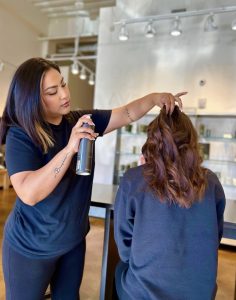 Her passion for beauty continued to grow, and a few years later, she made a life-changing decision to leave everything behind and move to Mexico, where she knew that she wanted to attend cosmetology school. She learned the basics of hair color, haircuts, manicures, pedicures, and makeup, and she knew then that she had made the right decision. 
However, life happened, and she was not able to complete the program. It was time for her to return to the United States. By then, she had her first child and became a single mother working a job as a server while attending school and making ends meet. She tried to pursue other majors at her community college, but she realized that she was not passionate about any of those careers. 
Four years ago, she made the decision to move to Charlotte, NC, where she discovered Aveda Arts and found the school she had been searching for. "Making my dreams come true became a priority for me, and I decided it was time to take a risk," she says.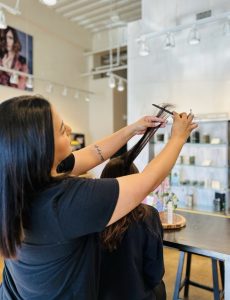 Today, she is two weeks away from graduation and looks back at all the memories and friends she has made along the way. Thanks to her education at Aveda Arts, she feels confident and ready to go out into the world with the knowledge and experience to continue her journey in the beauty industry. 
"Cosmetology school has been a life-changing experience for me, and I am grateful for the opportunity to follow my passion and turn my dreams into reality," she says. "I can't wait to see where this journey takes me next."