At the start of each year, Neill hosts their annual Serious Business Conference – one of the most celebrated business education events in the beauty industry. Attendees travel to New Orleans to hear inspiration and education from some of the world's most innovative thinkers.  
This year's theme – Upturn: a revitalization of our beauty industry and wellbeing. 
Aveda Arts held contests to offer students the opportunity to attend the renowned event and gain expert industry advice.  
AJ Juban, Aveda Arts Lafayette student, won his spot by showcasing #LifeAtAvedaArts in our social media reel contest. "I spent almost 9 hours filming, editing, and staging my apartment to look like an Aveda salon. I was very thrilled that all my hard work paid off," said Juban.  https://www.instagram.com/reel/CSB0oJCn8zJ/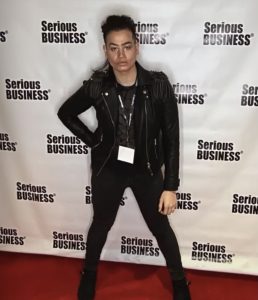 Speakers like Stefanie Fox and Genein Letford shared their wisdom about leadership in the salon industry – inviting guests to bring the best business practices back to their team.  
Juban attended Letford's breakout class about Intercultural Creativity in the salon, "I loved the way she spoke from the heart. I loved how hands-on she was with her students. Her activities were simple yet so impactful." 
Other student winners – Adonnious Sparkman, Paulina Olivera, and Pebbles Garcia attended Serious Business by displaying their perfect attendance in November and December. 
"It was astounding news to have been selected to win the attendance contest," said Garcia, Aveda Arts Corpus Christi student. "Awarding us shows how much our presence is appreciated."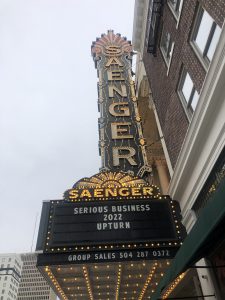 Although the event is focused on the beauty industry, speakers shared insight on trauma, emotions, and how to become your best self in your career. "I really enjoyed the sort of running theme a lot of the speakers chose about trauma and self-healing. Definitely a new perspective of the depth of our industry." shared Garcia.  
Speakers challenged attendees to learn new ways of thinking and elevate their creativity. "Listening to the speakers was mind-opening. I filled my Serious Business book with notes," said Olivera. 
Adonnious Sparkman's favorite session was with the speaker, David Kessler – who spoke of grief and how to live a fulfilled life after loss.  
"What we do and are learning is very important. The work we do listening to our clients is so powerful. We become almost like their therapist," shared Sparkman. "The experience was amazing. It taught me a lot of life lessons that I didn't know that I needed."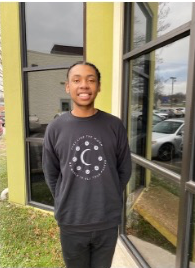 We are thrilled for our students who had the opportunity to experience Serious Business. Inviting students to beauty industry events like this one allows them to network with professionals, hear salon success stories and become even more prepared to launch their careers. 
"I left Serious Business feeling rejuvenated and having a whole new outlook and perspective on life," said Juban. 
Because our objective is to prepare our students to enter the beauty industry, each of our programs focuses on career development. Students will learn technical, personal, and business skills throughout their training at Aveda Arts. 
To be entered in our upcoming attendance contest – students must have perfect attendance from January through March 31st for a chance to win a trip to Nashville to work backstage at Next Fest & attend the Elevate Hair Show After Party! There will be one winner per region (three total). All students entered to win will also receive an exclusive t-shirt.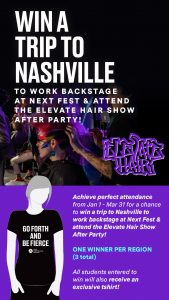 Are you dreaming of launching your career in beauty? We're enrolling now for our Cosmetology and Esthiology programs! Give us a call at 877 892 8332 to connect with our admissions team or send us a DM on Instagram @avedaarts.